Readability of Prose Forms: Pain or Gain?
Keywords:
readability, prose forms, text-reader factors, text comprehension
Abstract
This paper aims to analyze the readability of the prose forms prescribed for students at the lower secondary level comprising short stories and a novel. The research question addressed is, 'What are the text-reader factors which affect students' reading comprehension?' Interview sessions were carried out with 18 lower secondary students and the questions posed during the interview sessions focused on text-reader factors. Thematic analysis was carried out to analyze data from the verbatim transcription. The findings revealed that students were unhappy with certain physical aspects of the prose forms. Nonetheless, the literary texts used appears to match the readability level of the students involved. Results also show that the prose forms selected cater to all Malaysian lower secondary students of different language abilities and background. The weak students could be guided to read and understand the prose forms whereas the good students could improve themselves with enrichment activities.


Downloads
Download data is not yet available.
References
Adlina Ismail, Normah Yusof, & Kamariah Yunus. (2016). The readability of Malaysian English children books: A multilevel analysis. International Journal of Applied Linguistics & English Literature, 5(6), 214.

Baillie, A. (2015). The cheat. Short story arena Form 2. Literature component for secondary schools. Kementerian Pendidikan Malaysia: Zulfashah Book Service.

Brown, H. D. (2000). Principles of language learning and teaching. New York: Pearson. Retrieved from
http://www.glencoe.com/glencoe_research/Jamestown/motivation_and_engagement.pdf

Dahlia Janan. (2011). Towards a new model of readability. (Unpublished doctoral dissertation): University of Warwick, Tucson. Retrieved from http://wrap.warwick.ac.uk/51759/1/WRAP_THESIS_Janan_2011.pdf

DuBay, W. H. (2004). Principles of readability. Costa Mesa, CA: Impact Information. Retrieved from http://www.nald.ca/fulltext/readab/readab.pdf

Gilliland, J. (1972). Readability. London: University of London Press.

Guthrie, J. T., & Wigfield, A. (1997). Relations of children's motivation for reading to the amount and breadth of their reading. Journal of Educational Psychology, 89(3), 420-432.

Hibbing, A. N. & Rankin-Erickson, J. L. (2003). A picture is worth a thousand words: Using visual images to improve comprehension for middle school struggling readers.The Reading Teacher, 56(8), 758-770.

Imran Ho Abdullah,& Ruzy Suliza Hashim. (2007). Readability analysis of Malaysian short stories in English. e-BANGI: Jurnal Sains Sosial dan Kemanusiaan, 2(2), 1-11.

Kucer, S. B. (2009). Dimensions of literacy: A conceptual base for teaching reading and writing in school settings (3rd ed.). Mahwah, NJ: Erlbaum.

Lapp, D., & Flood, J. (1986). Teaching students to read. New York: MacMillan.

Leisure Reading Task Force. (2014). Position Statements. National Council of Teachers of English. Retrieved from http://www2.ncte.org/statement/leisure-reading/

Lazar, G. (1993). Literature and language teaching: A guide for teachers and trainers. Cambridge: Cambridge University Press.

MacMillan, J. H. (1996). Educational research: Fundamentals for the consumer (2nd ed.).nHarper Collins: College Publishers. Retrieved from http://ww2.odu.edu/~jritz/attachments/edrefu.pdf

Marohaini Yusoff. (1999). Teaching reading and comprehension strategies. Kuala Lumpur: Institute of Language and Literature.

Mealyea, R. (1979). Readability: Concept and measurement. Retrieved from http://www.voced.edu.au/content/ngv%3A29267

Narinder Dhami. (2014). Fair's fair. Literature component for secondary schools Form 1 (Student's edition.). Kementerian Pendidikan Malaysia: Zulfashah Book Service.

Nesbit, E. (2011). The railway children. Literature component for secondary schools. Form 3 (Student's edition.). Kuala Lumpur: Zirwah.

Rosenblatt, L. (1976). Literature as exploration. New York: Modern Language Association.

Siti Rohani Kassim. (2010). Literacy through children's literature: A Malaysian perspective. Malaysian Journal of Media Studies 12(2), 1-9.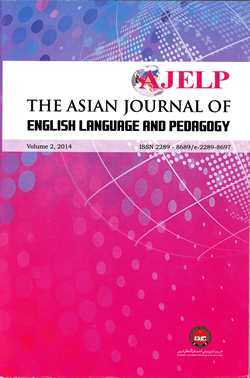 Downloads
How to Cite
Gopal, R., & Mahmud, C. T. (2017). Readability of Prose Forms: Pain or Gain?. AJELP: Asian Journal of English Language and Pedagogy, 5, 90–101. https://doi.org/10.37134/ajelp.vol5.8.2017